---
The Promised Neverland
---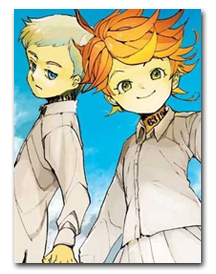 Original Title: 約束のネバーランド / Yakusoku no Nebārando
Written by: Kaiu Shirai
Illustrated by: Posuka Demizu
Genre: Mystery, Suspense
Reading Stage: Chapter 138. Season 1 for the Anime (by Reading Stage, I mean that I wrote this review at this stage of my reading)
Status: Ongoing
Manga: Yes
Anime: Yes
Review:
The Promised Neverland is one of my favorite mangas because of the quality of its writing. This is typically the kind of story where you shouldn't say the synopsis or the beginning, for it'll take away all the pleasure of discovering it.
If I had to introduce this manga, the only thing I would be able to say is that the story begins in a heavenly orphanage with three main characters : Ray, Norman and Emma. And that's it. Saying more than that is to take the risk of spoiling the essence of the "Mystery" genre.
I rarely followed a story that so made me want to read the next episode, a state I've been for... 138 chapters. The author manages to hold his readers at every turn of the narration while succeeding in keeping a fast pace. Too often, mystery stories try to stretch things over time, delivering information bit by bit, which creates a feeling of slowness.
I also like the message The Promised Neverland seems to want to convey. Usually, with this kind of context, when you compare it to other similar stories, they often fall in the "no message" trap, when the reader is inclined to only make bets about some elements, not caring for the characters anymore. But this manga manages to keep its guiding line and to portray Humanity realistically without falling into utter pessimism.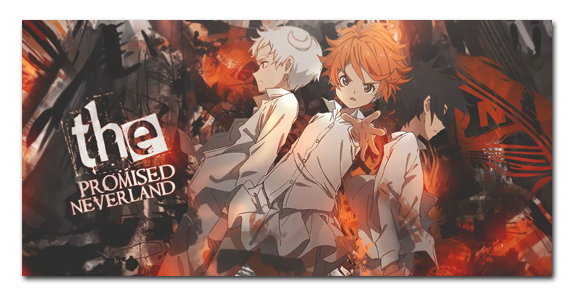 As for the Anime, I find it well done and pretty faithful to the Manga. I had a good time to rediscovering the story from another perspective.
In conclusion, I recommend it to any fan of suspense. On my part, I consider it to be a really good example of mastering pace in a storyline, with deep and powerful events.